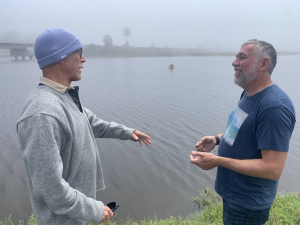 FOR IMMEDIATE RELEASE
Contact:
Graeme Rae, HyperKelp, Inc., 714-315-2792 or graeme@hyperkelp.com
Bart Ziegler, Samuel Lawrence Foundation, 619-300-1097 or bziegler@toxco.net
$10k grant to advance sea level rise monitoring
DEL MAR (April 26, 2022)—The Samuel Lawrence Foundation this month awarded a $10,000 grant to an Encinitas company advancing new technology to gather data from the ocean and atmosphere.
The company, HyperKelp, Inc., designs solar-powered buoys that can be equipped with sensors that gather all manner of data from the ocean, the air, lagoons, harbors or any other body of water.
The Foundation's grant focuses on improving the tracking of "sea surface heights" — the elevation of the ocean once the "noise" of the tides, waves, and atmospheric pressure is removed. Capturing real-time, in situ data from surface-level buoys tracks sea level rise far more reliably than modeling extrapolated from satellite readings or failure-prone underwater hardware, said Dr. Graeme Rae, HyperKelp's chief executive officer.
"Our systems are more efficient, reliable and can gather more accurate data," Rae said.
A HyperKelp buoy can be outfitted with super-sensitive, GPS-based sensors that capture readings from the ocean's surface.
"Our approach uses next-generation signal processing to capture the slow, hidden rise of the ocean," said Costas Soler, chief technology officer.
The sensors also can detect sudden fluctuations in sea surface heights brought by tsunamis.
Sea level rise, coastal flooding, and tsunamis are of particular concern to the Samuel Lawrence Foundation, a Del Mar-based advocacy group challenging the storage of nuclear waste 100 feet from the ocean at San Onofre.
"HyperKelp is applying science where it's needed most," said Dr. Bart Ziegler, president of The Samuel Lawrence Foundation. "At Southern California Edison's nuclear waste dump, where the utility and government regulators are sitting on their hands, accurate ocean monitoring and predictions could be the driver of long-overdue action."
One of HyperKelp's "Kelp Smart Buoys" is deployed in Los Peñasquitos Lagoon. It gathers environmental data for the Tijuana River National Estuarine Research Reserve, part of the National Oceanographic and Atmospheric Administration. Others work at an Aquaculture facility on  Agua Hedionda Lagoon and the Ocean Institute in Dana Point Harbor. Still, others are being deployed in Georgia for Georgia Tech Research Institute and the US Navy.
The buoys are designed for "ridesharing," Rae says. That means different researchers can outfit a buoy with various sensors to capture the specific data they need. An open-ocean wind farmer can identify the best locations to place turbines; a fish farmer can find plankton in the sea or trout in a lake; surf forecasters can improve their predictions; water district managers can read reservoir depths.
Sensors aboard a HyperKelp buoy can even measure meltwater from glaciers in Greenland with great accuracy.
One particular HyperKelp buoy in Dana Point is loaded with a dozen different kinds of sensors, Rae said.
Sensors can take basic weather readings such as temperature, salinity, turbidity, and conductivity. A recent NOAA grant even had HyperKelp measuring levels of airborne dust. Up to 150 specialized sensors can already function aboard a HyperKelp buoy and new ones added with about 20 lines of code and two hours' work.
By 2025, HyperKelp hopes to deploy thousands of buoys in the world's oceans. Rae, who holds a Ph.D. in Ocean Engineering from Florida Atlantic University, founded HyperKelp in 2021.
"The potential for us goes so far beyond tracking weather," Rae said. "The ocean covers 70 % of the earth's surface, but nobody's taking readings in the middle of the ocean."
Learn more at www.hyperkelp.com and www.samuellawrencefoundation.org.