HyperKelp Update: May 18, 2022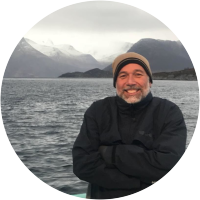 Graeme Rae for HyperKelp
Our trusted smart-buoys collect, process, and transmit data from the surface of the ocean.
CEO's CORNER: There has been a lot going on in the world in the last few months. The war in Ukraine has heightened our awareness that events overseas have far-reaching implications. We are all searching for more information about the current events and, potentially, family and friends who are in the region. At HyperKelp, we are watching and trying to understand how we can help monitor situations like these around the world with our sensing technology.
One thing that hasn't changed direction is climate change. The IPCC has come out with its report detailing the global changes within the last ten years and the effect climate change would have on the world. We will have more information on that report in the next few months and how we are helping.
And lastly, we have done some great work to not only prove our technology works but also logged our ONE MILLIONTH data point on our smart buoy technology and are well on our way to two million. Thank you for coming along on our journey to change the way ocean data is collected.
-Dr. Graeme Rae
If you can't wait for our newsletter, you can always visit hyperkelp.com for regular blog posts and updates.
🏆 Achievements
In a world where changing climate promises to impact every single one of us, we are excited to be at the forefront of climate change research and change. We recently embarked on an ocean study with the Blue Team at Northrop Grumman to deploy Conductivity, Temperature and Depth (CTD) sensors in the Atlantic to measure the impact of glacial melt. This project was featured in an article in the 
San Diego Business Journal
.We are also the recipient of a grant from the 
Samuel Lawrence Foundation
 to measure Sea Level rise. Sea level rise may affect tides and storm events that could endanger cities and anything else that is located close to the ocean, threatening to inundate our coastal infrastructure. Our buoys will host a novel GPS-based payload and software to accurately measure Sea Surface Height in the open ocean. For more information, you can read the full 
press release
.
Our buoy fleet delivered over ONE MILLION data points from the ocean surface, and we are rapidly tracking to two. As ocean data scientists, we are very excited about this! This is our proof-positive that we can collect, monitor and deliver high volumes of real-time data to climate scientists for analysis and study.
We shipped our first KSB to a third-party developer who intends to customize it to host their own unique sensors. This was one of the ways we originally intended our buoys to be used. We have developed many other applications for our technology including ocean environmental data, shipping industry data, energy sector data, and hypersonic sensing. The flexibility of application is one way we are differentiated in the market.
We were also highlighted in a Lifewire article showcasing HyperKelp's ability to collect ongoing ocean data at a fraction of the cost of current, single-point data collection methods. The article also writes about the future of other ocean tech developments.
🖥 Product
We developed, installed, and successfully tested 
NINE
 new sensors through our NOAA Phase I. Why does this matter? Sensors can be clustered into payloads to address customer needs in climate monitoring, estuary management, and weather forecasting. This means that we can deliver data to multiple customers from just one smart-buoy.The data we are monitoring includes:
Climate monitoring
Estuary management

Depth
Dissolved oxygen
Camera (we can even send photos over Short Burst Satellite communications)

Weather

Air pressure
Rain
Lightning strikes
Wind speed and direction
Take a look at the customizable data dashboard below.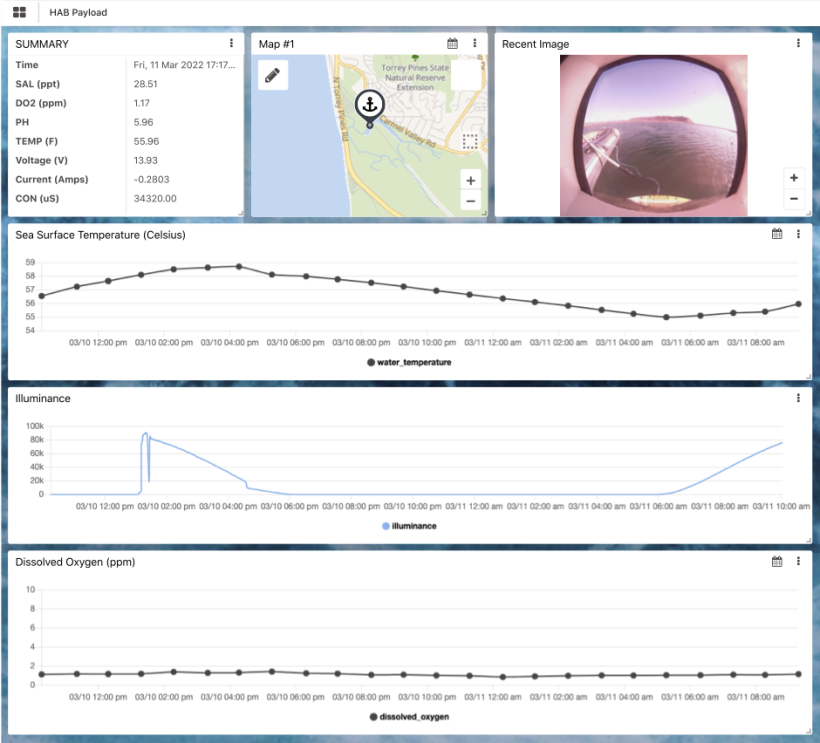 Harmful Algal Bloom Payload Dashboard
If you tell us what you want to measure, or what sound you'd like to listen to, we can build you a buoy!
🎯 Strategy
Harbor and Coastal monitoring – We are actively pursuing customers in the harbor, shipping, and coastal monitoring space. Our buoys can collect information and identify anything on, below, or above the surface.
Inventory build – Next month, we'll be building inventory to immediately deliver customer orders and carry out data collection missions. One of our capabilities is that we can ramp up production quickly for customers.
Continue to share expertise in ocean data gathering – We were recently invited by DIU to pitch two open topics in Harbor Security and Maritime Domain Awareness.
🎈 EventsWe have had a great month of meeting people and showcasing our capabilities in real-time:
We attended the H4Xlabs/BMNT event in San Diego, learning about the needs and opportunities of the Blue Tech community in San Diego
We attended the TMA/Bluetech "State of the Blue Economy" We were invited to attend along with San Diego Supervisor Nathan Fletcher, San Diego Mayor Todd Gloria, and Congressman Scott Peters.
Our CTO, Costas Soler visited and spoke at the Department of Astronomy at his alma mater: UC Berkeley. As an astrophysics alum who entered a career in tech, Costas was invited to be a panelist and discuss his real-world and business start-up experience.
We spent two days at the Braid Theory Ignite-22 event where we demonstrated how our Kelp Weather buoy is delivering real-time weather data from the Port of L.A. Thank you to Ann Carpenter, Jim Cooper, and Altasea for hosting such an inspiring event!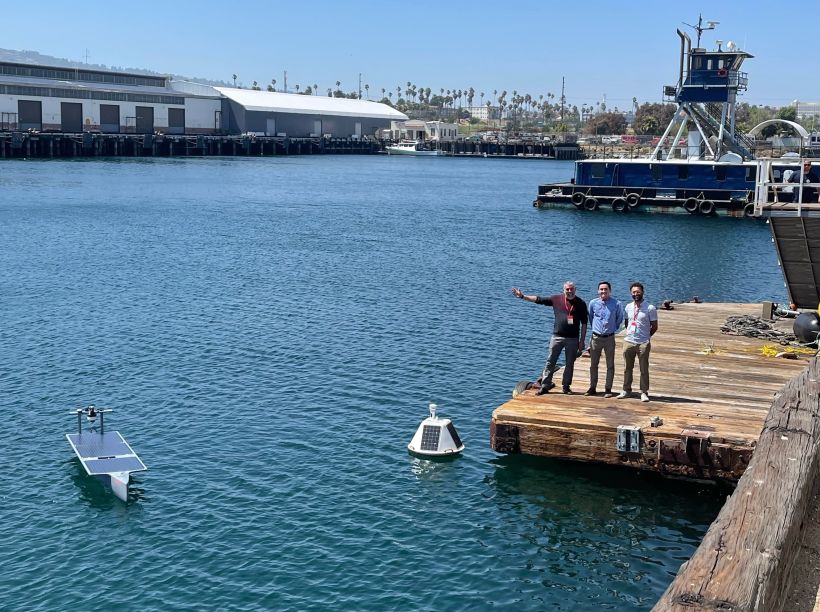 And thank you to Declan from Seasats for letting us take their X3 for a spin!
📢 Shout Outs
As always – we would not be where we are today without the support of our community.
Alessio and Scratch at GTRI for trusting out KSB to host their infrasound equipment at sea.
Thank you for being our fellow travelers on this journey! If you ever want to discuss ocean-related topics, don't be afraid to reach us at info@hyperkelp.com. Interested in investing?  let's talk!