Rugged Powertrain • Persistent Data Pathways • Quick Integration
Kelp Smart Buoy (KSB)
KSB is built to host any payload at sea, and guarantee data delivery from any point on the Earth's surface. Each KSB features a rugged solar array that generates power for indefinite operations from 70°N to 70°S. A minimum of 48 Watt-Hours of energy per day is budgeted exclusively for payload use, and a variety of onboard communications pathways – including satellite communications, LoRa, 4G Cell, and WiFi – ensure maximum possible bandwidth for data and system access in any deployment situation.  
KSB systems go far beyond the drawing board. They are vetted hosted payload platforms. With a combined 43,000 hours (and counting) at sea, HyperKelp's deployed fleet of KSBs have delivered over 3.3 million measurements from over 37 sensor payloads. These range from complete weather stations for NOAA, to barometers that captured the 2022 Tonga eruption from 5,300 miles away, and even submersible profilers for environmental scientists at Northrop Grumman.
Weather Monitoring: Don't rely on modelled data or data from distant locations. Measure the environmental variables you want in real-time from your study location.
Water Quality: Standard sensors measure salinity, temperature, dissolved oxygen, pH. Kelp will alert you when conditions exceed your limits.
Custom: Don't see the sensor you want? Our modular design allows you to add additional sensors with ease. Light levels, radiation, wave conditions, surface and sub-surface noise to name a few.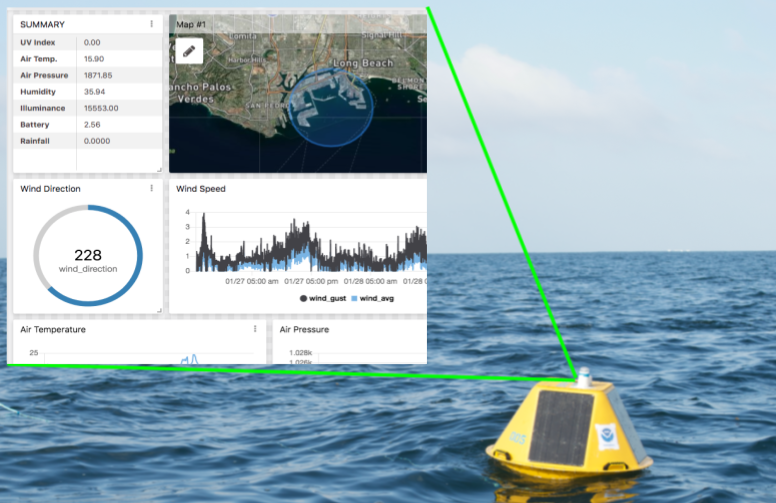 Long Range
Deployable by boat in any maritime setting, HyperKelp delivers live data from anywhere in the world.
Fingertip Data
Your datasets update in real time, and are always available on our ODaaS dashboard.
Modular
Our hosted payload platform supports a library of over 150 types of environmental sensors.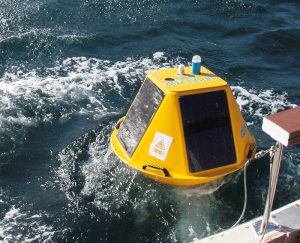 KSB unit deployed north of California's Channel Islands to support a NOAA Phase II grant. This system hosted sensors for tracking pH, swell height, and turbidity over a protected kelp forest.