Rugged Communication Platforms • Situational Awareness • Rapid Development
Kelp
HyperKelp provides access to any type of ocean data from any point on the ocean's surface with hardware and software platforms. The Kelp Smart Buoy (KSB) is a proven, trusted, sensor-agnostic, hosted payload platform for situational/environmental awareness.
Weather Monitoring: Don't rely on modelled data or data from distant locations. Measure the environmental variables you want in real-time from your study location.

Water Quality: Standard sensors measure salinity, temperature, dissolved oxygen, pH. Kelp will alert you when conditions exceed your limits.

Custom: Don't see the sensor you want? Our modular design allows you to add additional sensors with ease. Light levels, radiation, wave conditions, surface and sub-surface noise to name a few.
Long Range
Deployable from air or sea, HyperKelp streams live data from anywhere in the world.
Fingertip Data
Data flow is immediate, instantaneous and always available.
Modular
Our hosted payload platform can accommodate chemical, meteorological, and tactical sensors using multiple interfaces.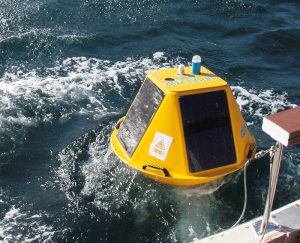 Kelp deployed off California's Channel Islands.